uPVC Window Fabricator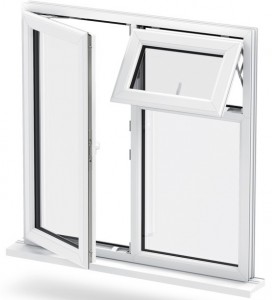 Energy bills are on the increase, environmental concerns are higher on the agenda than ever before and building regulations are becoming more demanding every year. Choosing a window system that offers higher Windows Energy Ratings for a lower cost therefore makes good sense.
With Liniar's lead-free, multi-chambered profile, patented co-extruded bubble gasket, glazing flipper and thermal dam, you don't need expensive triple glazing to achieve the highest energy ratings – the Liniar system achieves a WER of A+ with ease and a U-value of 1.2 with cost effective double glazing.
The uPVC profile, or frame, in a Liniar window contains symmetrical chambers to minimise the transfer of heat from the inside of your property to the outside. This, together with other innovative design enhancements, helps to minimise energy costs on an ongoing basis. The Liniar EnergyPlus range contains 6 chambers and can achieve a U-value as low as 0.8 W/m2K.
Unlike other uPVC window systems, Liniar's high thermal efficiency hasn't been achieved at the expense of strength or security – the range is accredited with both PAS 24 Enhanced Security and Secured By Design status, assuring you of the highest standards.
Liniar casement windows offer total versatility and remain the most popular choice for homes all over the UK today.
This traditional British window style offers slim sight lines to let in maximum light. Available in a wide choice of configurations, including top or side hung, arched top, or as a French window fire escape.  Adding mock sash horns gives Liniar casement windows the appearance of traditional vertical sliders. To add character you can add astragal bars or Georgian bars
Choosing Liniar uPVC casement windows means you can say goodbye to draughty windows forever – Liniar's unique, patented double-action bubble gasket, used in all our products, delivers a continuous seal – even in the corners – also keeping your windows weather proof and leak-free.
Available in sculptured (curved) or chamfered (bevelled) 70mm profiles (frames), with either 28mm double or 36mm triple glazing, Liniar uPVC casement windows can be internally or externally beaded. Consumers can choose from Liniar's standard 4-chamber profile, delivering supreme energy efficiency, or Liniar EnergyPlus 6-chamber profile to offer A+ Window Energy Ratings with ease – together with a wide choice of colours, finishes, hardware and glazing options.
Flush sash windows are the latest exciting development from Liniar. They offer the realism of a traditional pre-1932 timber window combined with 21st century thermal benefits.
Many property owners require a traditional timber window frame, sometimes due to planning or environmental restrictions.
Timber frames tend to be expensive, need regular maintenance and can be difficult to replace.
Liniar recognised the need to develop a casement window frame that would fit into any property where the sash fitted flush into the frame – and which could be foiled to look like traditional timber or to offer a sleek, contemporary finish.
Liniar flush sash windows, like the rest of the Liniar EnergyPlus window range, are A+ rated. They offer a lower cost window with higher thermal benefits than timber – in addition to being fully secure.
Available in sculptured profile with the flush finish on external faces, 28mm double or triple glazing, internally beaded, with a wide choice of opening configurations, colours, finishes, hardware and glazing.

M F Plastics Manufacturing. uPVC Window and Door fabricator Coventry, West Midlands
Double Glazing installers  |  Double Glazed Conservatory Installers  |  Double Glazing Repairs